Empty DIV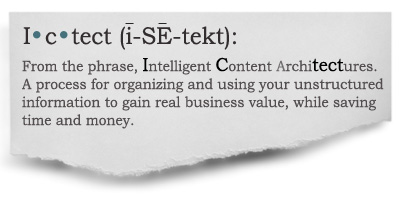 Ictect, Inc. started its operations in 2008 with a patented process for automatically structuring textual documents. That work developed into a vision of giving anyone that created or used complex documents the ability to quickly structure, store, search and produce rich information, right from their desktop.
Ictect, Inc. has been proud to serve clients both large and small with multiple applications of our patented technology. Electronic publishing (books and journals), formative assessments, intellectual property, standards, and contracts are some of the document types where Ictect solutions have been used.
Ictect, Inc. is an organization focused on developing Intelligent Content architectures. Intelligent Content architectures provide the following for the organizations and stakeholders that adopt them:
Single source of truth for the content and related information

Technology populism including use of products such as Microsoft Word

Future-proof content by using the XML standard

Sustainable cost reduction by having optimized business processes

Multichannel delivery of content to popular media types and channels
We use a patented methodology and product "METHOD AND SYSTEM FOR AUTOMATED STRUCTURING OF TEXTUAL DOCUMENTS" (U.S. Patent Number 7,251,777) in developing and implementing Intelligent Content architectures.
We license our patented technology and provide services to mid- and large-size organizations primarily in the United States via the following channels:
Direct

Software publishers (OEM) and value-added resellers (VARs)

IT services partners
Our technology is applicable to a wide range of industries, where content-centric activities are integral to the business. To discuss partnership or other business possibilities, please contact us.