Ictect Technology for Policies and Procedures
Preparing Policies Today
Microsoft Word is the most common editor for drafting policy and related documents. However, preparing final, web-ready documents can require significant amount of time and technical tools. Preparation of final documents may require the following:
Compliance with editorial and style guidelines

Compliance with document formatting guidelines

Consideration for accessibility and section 508 compliance

Preparation of multiple versions such as PDF and HTML
Preparing Policies with Intelligent Content Technology
Ictect's patented Intelligent Content Technology, based on Microsoft Word, makes it very easy for non-technical users to prepare and format policy documents. The illustrations below show the draft and final versions, prepared using Intelligent Content Tools. Getting between both steps only requires the click of a button.
Illustrations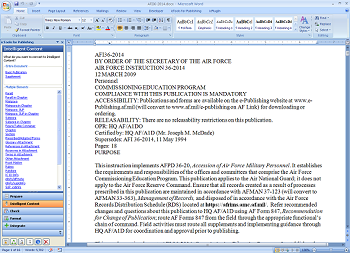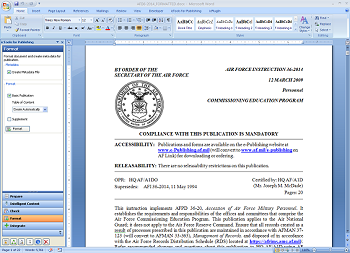 Download Samples
The following sample package includes a draft document, XML tagged document, and final formatted document. Click on the button below to download.
Benefits
Intelligent Content Tools brings the following benefits:
Automatically checks for compliance with guidelines

Automate formats your documents

Easily incorporate amendments, supplements, interim changes into the document

Save significant amount of time and costs on preparing documents

Lower implementation costs vs. buying highly proprietary system

Scalable from a single user to large organizations
Ictect Customers
Some of the organizations benefiting from our technology or services include:
United States Air Force

Legislative Data Center, State of California

Washington State Legislature

North Carolina State Legislature

US Department of the Treasury

The World Bank

European Court of Justice

Etc.
Interested in a Live Presentation?
Our Experience
Our experience with includes working on the following types of documents:
Policies, Directives, Manuals, Instructions, Memorandum, etc.

Legislative documents such as drafts, bills, amendments, notices, minutes, etc.

Rules and regulations

Opinions

Loan documents

Process flow documents

Official correspondence

Etc.
For more information
Read our case studies for government organizations: